12 Year Sitka Alaska Fishing Captain Mike Boles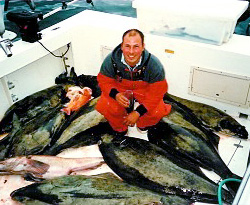 Sitka Alaska Fishing Captain Mike Boles, owner and operator of Sitka Point Lodge and Fishing Charters, has over twenty six years of experience in both commercial and charter fishing in Sitka, Alaska. His knowledge and familiarity means he knows the best places in Alaska to fish halibut and salmon.
Don't be surprised if he helps you bring in that large snapper or ling cod, which are also abundant in Alaskan waters!
Captain Mike has earned a US Coast Guard 100-Ton-Masters license. As a result, he knows the importance and value of safety in fishing. His safety equipment meets and exceeds USCG requirements.
Captain Mike sets the standard at Sitka Point Lodge and Fishing Charters by giving you the best Alaska fishing experience at a very reasonable price.
Meet the rest of the Sitka Alaska Fishing Crew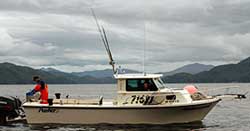 Setting out with Sitka Alaska Fishing Crew when the hot bite is on, each boat has a crew of a skipper and deckhand to ensure the most efficient Sitka fishing possible. By quickly baiting your hook and getting it back in the bite, you will get the most out of your hours on the water. Your skipper and crew use their collective skills and experience to locate the best fishing grounds in Sitka. They also teach you how to use the different equipment and fishing techniques that have proven the most successful in these Alaskan waters.
Fly Fishing in Sitka Alaska with Tad Kisaka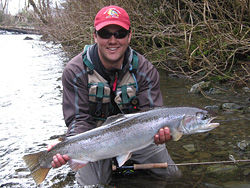 Fly Fishing in Sitka Alaska with Tad Kisaka. Tad has been fishing since Snoopy poles towered over him. He has fished all over the country, and even tested waters abroad. He was introduced to fly fishing while attending the University of Idaho. It was on Idaho waters that Tad became addicted to catching fish on the fly. While at Idaho, he studied overseas in Australia.
After his schooling was completed, Tad traveled around Australia with a backpack and fly rod in tow. The most amazing thing about Australia was that he never knew what was going to be tugging on the end of his rod. On his way back to the States from the land down under, Tad stopped off in New Zealand and fished for steelhead on the Tongariro River.
After receiving his degree in fishery resources, Tad traveled around the Northwest for three months hitting some legendary rivers and lakes. He then landed a biologist position in Vancouver, Washington and learned to fish the Columbia River for spring Chinook salmon, shad, and sturgeon. Fishing has guided him to some incredible places and has fostered some life long friendships.
Although, he has fished across the country, primarily in the Northwest, the waters around Sitka exceed the beauty and fishing value of the other places to which Tad has traveled. He currently lives year round in Sitka, and loves it. He has been fishing in Sitka, Alaska since 1999, and is familiar with all the different runs of salmon and the timing of trout and char species. Tad invites you to visit him to do some fishing, and he'll show you this magical place that he calls home.
Read what others say about their Alaska fishing experiences.